Thelypteridaceae
Christella H. Lév.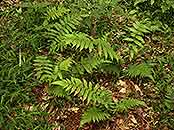 Photo: P. Ballings
Zimbabwe
Description of the genus
Plants terrestrial. Rhizome erect or short-creeping. Fronds monomorphic, not proliferous, 2-pinnatifid. Lamina without scales, basal pinnae reduced. Veins free, one pair of veins meeting at the base of the sinus or a few pairs of veins meeting below the sinus between the pinna lobes. Sori circular, indusiate.
Derivation of name: christella: named after Konrad Christ, a Swiss pteridologist.
Worldwide: c. 110 species, occuring throughout the tropical and temperate parts of the world.
We have 13 taxa in the database for Christella.
Christella altissima Holttum
Christella buchananii (Schelpe) J.P. Roux
Christella burundensis Pic.Serm.
Christella callensii (Alston) Holttum
Christella chaseana (Schelpe) Holttum
Christella dentata (Forssk.) Brownsey & Jermy
Christella friesii (Brause) Holttum
Christella gueinziana (Mett.) Holttum
Christella guineensis (H.Christ) Holttum
Christella hispidula (Decne.) Holttum
Christella microbasis (Baker) Holttum
Christella parasitica (L.) Lév.
Christella pseudogueinziana (Bonap.) J.P.Roux
Literature
Crouch, N.R., Klopper, R.R., Burrows, J.E. & Burrows, S.M. (2011) Ferns of Southern Africa, A comprehensive guide. Struik Nature.
Jacobsen, W.B.G. (1983) The Ferns and Fern Allies of Southern Africa. Butterworths, Durban and Pretoria.
Roux, J.P. (2001) Conspectus of Southern African Pteridophyta. Southern African Botanical Diversity Network Report, 13: 1-222.