Polypodiaceae
Microgramma C.Presl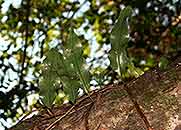 Photo: BT. Wursten
Mozambique
Description of the genus
Rhizome widely creeping, laterally branched; rhizome scales lanceolate to subulate, peltate. Fronds widely spaced, articulated, simple, entire, mostly slightly dimorphic, fertile fronds longer and narrower than sterile fronds, firmly herbaceous to coriaceous. Sori round to elongate, arranged in 1 or more series on either side of the primary vein.
Derivation of name: mikros: small, gramma: line; a reference to the two lines of relatively small sori
Worldwide: c. 15 species, neotropical distribution.
We have 1 taxa in the database for Microgramma.
Microgramma mauritiana (Willd.) Tardieu
Literature
Crouch, N.R., Klopper, R.R., Burrows, J.E. & Burrows, S.M. (2011) Ferns of Southern Africa, A comprehensive guide. Struik Nature.
Jacobsen, W.B.G. (1983) The Ferns and Fern Allies of Southern Africa. Butterworths, Durban and Pretoria.
Roux, J.P. (2001) Conspectus of Southern African Pteridophyta. Southern African Botanical Diversity Network Report, 13: 1-222.
Schelpe, E.A.C.L.E. (1970) Pteridophyta. Flora Zambesiaca, 0: 1-254.