Lindsaeaceae
Lindsaea Dryand. ex Sm.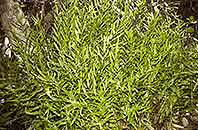 Photo: JE. Burrows
South Africa
Description of the genus
Terrestrial or lithophytic ferns. Rhizome creeping; rhizome-scales brown, ovate-lanceolate, grading into hairs. Stipe not articulated. Fronds tufted or spaced, herbaceous, glabrous, pinnate; pinnae symmetrical or midrib forming the lower margin for some distance; veins free or less often, anastomosing. Sori marginal or submarginal, linear or oblong. Indusium opening outwards towards the margin.
Derivation of name: Lindsaea: named after John Lindsay, a Jamaican botanist
Worldwide: c. 150 species, palaeotropical.
Key to the species of Lindsaea: PDF
We have 3 taxa in the database for Lindsaea.
Lindsaea odorata Roxb.
Literature
Crouch, N.R., Klopper, R.R., Burrows, J.E. & Burrows, S.M. (2011) Ferns of Southern Africa, A comprehensive guide. Struik Nature.
Jacobsen, W.B.G. (1983) The Ferns and Fern Allies of Southern Africa. Butterworths, Durban and Pretoria.
Roux, J.P. (2001) Conspectus of Southern African Pteridophyta. Southern African Botanical Diversity Network Report, 13: 1-222.
Schelpe, E.A.C.L.E. (1970) Pteridophyta. Flora Zambesiaca, 0: 1-254.