Dennstaedtiaceae
Hypolepis Bernh.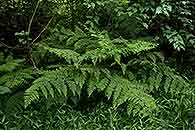 Photo: P. Ballings
Mozambique
Description of the genus
Rhizome subterranean, widely creeping, slender. Fronds large, widely spaced, 2-5-pinnatifid; veins free, rarely anastomosing. Sori small, ± circular, terminal on the veins and confined to the lobe sinuses; pseudo-indusium formed by a reflexed marginal flap. Spores monolete.
Derivation of name: hypo: under, lepis: scale; the sori are covered by a modified, scale-like flap of the margin
Worldwide: c. 40 species in tropical and warm regions of the world
We have 3 taxa in the database for Hypolepis.
Hypolepis goetzei Hieron. ex Reimers
Hypolepis sparsisora (Schrad.) Kuhn
Hypolepis villoso-viscida (Thouars) Tardieu
Literature
Crouch, N.R., Klopper, R.R., Burrows, J.E. & Burrows, S.M. (2011) Ferns of Southern Africa, A comprehensive guide. Struik Nature.
Jacobsen, W.B.G. (1983) The Ferns and Fern Allies of Southern Africa. Butterworths, Durban and Pretoria.
Roux, J.P. (2001) Conspectus of Southern African Pteridophyta.Southern African Botanical Diversity Network Report, 13: 1-222.
Schelpe, E.A.C.L.E. (1970) Pteridophyta.Flora Zambesiaca, 0: 1-254.