Salviniaceae
Azolla Lam.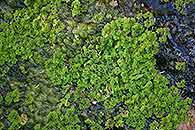 Photo: BT. Wursten
Zimbabwe
Description of the genus
Free-floating aquatic plants; rhizomes slender, roots simple. Leaves alternate in 2 rows, equally lobed with submerged lobe containing cavities with cyanobacteria and a chlorophyllous floating lobe, veins free. Sori in sporocarps borne in axils of submerged lobes.
Derivation of name: azo: dry, ollyo: to kill; plants are killed by drought
Comment: Some authors place the genus Azolla within the family of the Azollaceae. Recent literature (Roux 2009, Crouch 2011) however include the genus Azolla within the Salviniaceae.
Worldwide: c.6 species in tropical and warm areas, introduced in many ares
We have 4 taxa in the database for Azolla.
Azolla caroliniana Willd.
Azolla filiculoides Lam.
Azolla nilotica Decne. ex Mett.
Azolla pinnata R. Br. ssp. africana (Desv.) R.M.K. Saunders & K. Fowler
Literature
Crouch, N.R., Klopper, R.R., Burrows, J.E. & Burrows, S.M. (2011) Ferns of Southern Africa, A comprehensive guide. Struik Nature.
Jacobsen, W.B.G. (1983) The Ferns and Fern Allies of Southern Africa. Butterworths, Durban and Pretoria.
Roux, J.P. (2001) Conspectus of Southern African Pteridophyta. Southern African Botanical Diversity Network Report, 13: 1-222.
Schelpe, E.A.C.L.E. (1970) Pteridophyta. Flora Zambesiaca, 0: 1-254.