Oleandraceae
Oleandra Cav.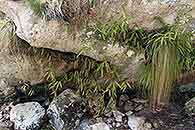 Photo: P. Ballings
Mozambique
Description of the genus
Rhizome long, creeping, laterally branched with brown, alternate, peltate rhizome-scales. Stipe articulated onto phyllopods (a short scaly base). Fronds simple, entire, uniform, widely spaced; veins free, parallel. Sori superficial on the veins, in a row on each side of the midrib near the costae; indusium kidney-shaped, opening outwards, homosporous.
Derivation of name: Oleandra: the leaves vagely look like the leaves of oleander (Nerium oleander).
Worldwide: c. 40 species, pantropical distribution
We have 3 taxa in the database for Oleandra.
Oleandra annetii Tardieu
Oleandra distenta Kunze
Oleandra ejurana C.D.Adams
Literature
Crouch, N.R., Klopper, R.R., Burrows, J.E. & Burrows, S.M. (2011) Ferns of Southern Africa, A comprehensive guide. Struik Nature.
Jacobsen, W.B.G. (1983) The Ferns and Fern Allies of Southern Africa. Butterworths, Durban and Pretoria.
Roux, J.P. (2001) Conspectus of Southern African Pteridophyta. Southern African Botanical Diversity Network Report, 13: 1-222.
Schelpe, E.A.C.L.E. (1970) Pteridophyta. Flora Zambesiaca, 0: 1-254.