Woodsiaceae
Deparia Hook. & Grev.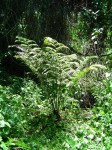 Photo: P. Ballings
Zimbabwe
Description of the genus
Plants terrestrial. Rhizome erect or short-creeping. Fronds monomorphic, herbaceous. Lamina pinnately compound, with hairs mostly along the veins; veins free. Sori linear or circular; indusium linear or rounded, attached at the base or along its entire lenght.
Derivation of name: depas: dish, saucer; an allusion to the minutely dish-like appearance of the sori in some species.
Worldwide: Old world tropical and temperate distribution, c. 40 species.
We have 2 taxa in the database for Deparia.
Deparia boryana (Willd.) M. Kato
Deparia japonica (Thunb.) M.Kato
Literature
Crouch, N.R., Klopper, R.R., Burrows, J.E. & Burrows, S.M. (2011) Ferns of Southern Africa, A comprehensive guide. Struik Nature.
Jacobsen, W.B.G. (1983) The Ferns and Fern Allies of Southern Africa. Butterworths, Durban and Pretoria.
Roux, J.P. (2001) Conspectus of Southern African Pteridophyta.Southern African Botanical Diversity Network Report, 13: 1-222.
Schelpe, E.A.C.L.E. (1970) Pteridophyta.Flora Zambesiaca, 0: 1-254.