Dryopteridaceae
Didymochlaena Desv.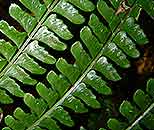 Photo: P. Ballings
Zimbabwe
Description of the genus
Plants terrestrial. Rhizome erect, massive, forming a short caudex; rhizome scales brown, subentire. Fronds tufted, firmly herbaceous, monomorphic. Stipe not articulated, scaly. Lamina oblong-ovate in outline, bipinnate. Pinnules dimidiate, trapeziform, articulated at the base, apex rounded, basal margin thickened; veins free. Sori elongate, terminal on the veins; indusia peltate with narrow elongated stalk.
Derivation of name: didymos: twin, double, chlaina: cover; referring to the seemingly double indusia.
Worldwide: 1 species, pantropical distribution.
We have 1 taxa in the database for Didymochlaena.
Didymochlaena truncatula (Sw.) J. Sm.
Literature
Crouch, N.R., Klopper, R.R., Burrows, J.E. & Burrows, S.M. (2011) Ferns of Southern Africa, A comprehensive guide. Struik Nature.
Jacobsen, W.B.G. (1983) The Ferns and Fern Allies of Southern Africa. Butterworths, Durban and Pretoria.
Roux, J.P. (2001) Conspectus of Southern African Pteridophyta.Southern African Botanical Diversity Network Report, 13: 1-222.
Schelpe, E.A.C.L.E. (1970) Pteridophyta.Flora Zambesiaca, 0: 1-254.