Thelypteridaceae
Pseudocyclosorus Ching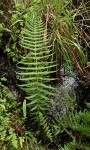 Photo: P. Ballings
Zimbabwe
Description of the genus
Plants terrestrial. Rhizome erect or shortly creeping. Frond 2-pinnatifid, abruptly decrescent with a series of much reduced vestigal pinnae along the stipe. Veins free, veins of pinnae lobes not meeting below the sinus. Sori round, indusiate, indusium reniform.
Derivation of name: pseudo: false, a false Cyclosorus.
Worldwide: c. 12 species, paleotropical and subtropical distribution.
We have 2 taxa in the database for Pseudocyclosorus.
Pseudocyclosorus camerounensis Holttum
Pseudocyclosorus pulcher (Willd.) Holttum
Literature
Crouch, N.R., Klopper, R.R., Burrows, J.E. & Burrows, S.M. (2011) Ferns of Southern Africa, A comprehensive guide. Struik Nature.
Jacobsen, W.B.G. (1983) The Ferns and Fern Allies of Southern Africa. Butterworths, Durban and Pretoria.
Roux, J.P. (2001) Conspectus of Southern African Pteridophyta. Southern African Botanical Diversity Network Report, 13: 1-222.