Isoetaceae
Isoetes L. -
Quillworts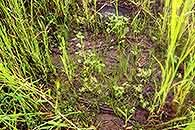 Photo: P. Ballings
Zimbabwe
Description of the genus
The characteristics of the stem, leaves and fertile portions are as for the family.
Derivation of name: isos: equal, etos: year; some of the submerged species in europe preserve the same outer appearance throughout the year.
Worldwide: c. 150 species, cosmopolitan apart from the Pacific Islands
We have 25 taxa in the database for Isoetes.
Isoetes aequinoctialis Welw. ex A. Braun
Isoetes alstonii C.F.Reed & Verdc.
Isoetes biafrana Alston
Isoetes capensis A.V. Duthie
Isoetes durieui Bory
Isoetes eludens J.P. Roux
Isoetes giessii Launert
Isoetes histrix Durieu ex Bory
Isoetes jaegeri Pitot
Isoetes labri-draconis N.R. Crouch
Isoetes melanotheca Alston
Isoetes nigritiana A. Braun
Isoetes nigroreticulata Verdc.
Isoetes pitotii Alston
Isoetes schweinfurthii A. Braun ex Baker
Isoetes spinulospora Jermy & Schelpe
Isoetes stellenbossiensis A.V. Duthie
Isoetes stephanseniae A.V. Duthie
Isoetes subinermis (Durieu) Cesca & Peruzzi
Isoetes tenuifolia Jermy
Isoetes toximontana L.J. Musselman & J.P. Roux
Isoetes transvaalensis Jermy & Schelpe
Isoetes velata A. Braun
Isoetes welwitschii A. Braun
Literature
Crouch, N.R., Klopper, R.R., Burrows, J.E. & Burrows, S.M. (2011) Ferns of Southern Africa, A comprehensive guide. Struik Nature.
Jacobsen, W.B.G. (1983) The Ferns and Fern Allies of Southern Africa. Butterworths, Durban and Pretoria.
Roux, J.P. (2001) Conspectus of Southern African Pteridophyta. Southern African Botanical Diversity Network Report, 13: 1-222.
Schelpe, E.A.C.L.E. (1970) Pteridophyta. Flora Zambesiaca, 0: 1-254.