Davalliaceae
Davallia Sm.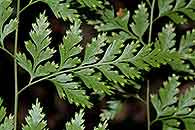 Photo: BT. Wursten
Mozambique
Description of the genus
Lithophytic or epiphytic, rarely terrestrial plants. Rhizome long creeping with a dense coat of peltate, ciliate rhizome-scales. Stipe articulated to the rhizome. Fronds numerous, monomorphic, much dissected, broadest at the base, texture firm, macroscopically glabrous. Lamina pinnately compound; venation free, ending near the margin. Sori terminal on the veins near the margin with indusium laterally free or attached.
Derivation of name: Davallia: named after Edmond Davall, botanist.
Worldwide: ± 90 species, predominantly palaeotropical distribution.
We have 2 taxa in the database for Davallia.
Davallia canariensis (L.) Sm.
Davallia chaerophylloides (Poir.) Steud.
Literature
Crouch, N.R., Klopper, R.R., Burrows, J.E. & Burrows, S.M. (2011) Ferns of Southern Africa, A comprehensive guide. Struik Nature.
Jacobsen, W.B.G. (1983) The Ferns and Fern Allies of Southern Africa. Butterworths, Durban and Pretoria.
Roux, J.P. (2001) Conspectus of Southern African Pteridophyta.Southern African Botanical Diversity Network Report, 13: 1-222.
Schelpe, E.A.C.L.E. (1970) Pteridophyta.Flora Zambesiaca, 0: 1-254.