Dennstaedtiaceae
Histiopteris (J. Agardh) J. Sm.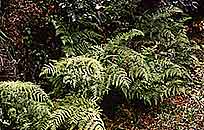 Photo: JE. Burrows
South Africa
Description of the genus
Rhizome widely creeping. Fronds well-spaced, 2-3-pinnatifid, glabrous and glaucous; veins anastomosing freely; pair of reduced pinnae at rhachis-secondary rhachis junction. Sori borne in a continuous line at the margin; indusium consisting of the reflexed margin of the lamina.
Derivation of name: histion: web, cloth; pteris: fern; referring to the stipule-like pinnules at the base of the pinnae or to the netted vein pattern.
Worldwide: 1 species occuring in the tropical and south-temperate areas of the world.
We have 1 taxa in the database for Histiopteris.
Histiopteris incisa (Thunb.) J.Sm.
Literature
Crouch, N.R., Klopper, R.R., Burrows, J.E. & Burrows, S.M. (2011) Ferns of Southern Africa, A comprehensive guide. Struik Nature.
Jacobsen, W.B.G. (1983) The Ferns and Fern Allies of Southern Africa. Butterworths, Durban and Pretoria.
Roux, J.P. (2001) Conspectus of Southern African Pteridophyta. Southern African Botanical Diversity Network Report, 13: 1-222.
Schelpe, E.A.C.L.E. (1970) Pteridophyta. Flora Zambesiaca, 0: 1-254.