Sinopteridaceae
Doryopteris J.Sm.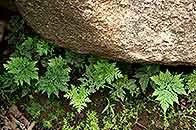 Photo: P. Ballings
Zimbabwe
Description of the genus
Rhizome short, unbranched. Fronds monomorphic or dimorphic, pedate-pinnatifid, segments not articulated. Sori marginal or submarginal, indusium a strongly modified margin, interrupted or continuous.
Derivation of name: dory: spear, pteris: fern; alluding to the shape of the leaves of some species.
Worldwide: ± 35 species, pantropical
We have 2 taxa in the database for Doryopteris.
Doryopteris concolor (Langsd. & Fisch.) Kuhn
Doryopteris pilosa (Poir.) Kuhn var. gemmifera J.E.Burrows & S.E.Strauss
Literature
Crouch, N.R., Klopper, R.R., Burrows, J.E. & Burrows, S.M. (2011) Ferns of Southern Africa, A comprehensive guide. Struik Nature.
Jacobsen, W.B.G. (1983) The Ferns and Fern Allies of Southern Africa. Butterworths, Durban and Pretoria.
Roux, J.P. (2001) Conspectus of Southern African Pteridophyta.Southern African Botanical Diversity Network Report, 13: 1-222.
Schelpe, E.A.C.L.E. (1970) Pteridophyta.Flora Zambesiaca, 0: 1-254.