Pteridaceae
Actiniopteris Link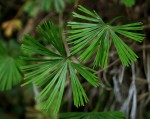 Photo: P. Ballings
Zimbabwe
Description of the genus
Plants small, terrestrial or lithophytic. Rhizome creeping, rhizome scales linear, attenuate concolorous or variegated. Fronds tufted, flabellate, dichotomously divided into linear segments, sometimes dimorphic with fertile and sterile fronds, these strongly or weakly differentiated; fertile fronds usually larger than the sterile. Sori in a submarginal line, covered by a modified marginal indusium. Indusium continuous, entire.
Derivation of name: aktinos: ray, pteris: fern; referring to the radial or fan-shaped lamina.
Comment: Sometimes placed in the family of the Actiniopteridaceae.
Worldwide: 5 species, predominantly African, but 2 extended to India and Sri Lanka
Key to the species of Actiniopteris: PDF
We have 5 taxa in the database for Actiniopteris.
Actiniopteris dimorpha Pic.Serm. ssp. dimorpha
Actiniopteris dimorpha Pic. Serm. ssp. diversiformis Kornas
Actiniopteris pauciloba Pic.Serm.
Actiniopteris radiata (J. Konig ex Sw.) Link
Actiniopteris semiflabellata Pic.Serm.
Literature
Crouch, N.R., Klopper, R.R., Burrows, J.E. & Burrows, S.M. (2011) Ferns of Southern Africa, A comprehensive guide. Struik Nature.
Jacobsen, W.B.G. (1983) The Ferns and Fern Allies of Southern Africa. Butterworths, Durban and Pretoria.
Kornas, J. (1979) Distribution and ecology of the Pteridophytes in Zambia. Polska Akademia Nauk Wydzial II Nauk Biologicznych.
Roux, J.P. (2001) Conspectus of Southern African Pteridophyta.Southern African Botanical Diversity Network Report, 13: 1-222.
Schelpe, E.A.C.L.E. (1970) Pteridophyta.Flora Zambesiaca, 0: 1-254.