Psilotaceae
Psilotum Sw.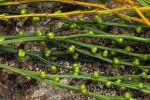 Photo: BT. Wursten
Mozambique
Description of the genus
Description as for the family.
Derivation of name: psilom: bare, -tum: appearing to be; referring to the almost leafless character of the plants.
Worldwide: 2 species, pantropical to warm temperate distribution.
We have 1 taxa in the database for Psilotum.
Psilotum nudum (L.) P. Beauv.
Literature
Crouch, N.R., Klopper, R.R., Burrows, J.E. & Burrows, S.M. (2011) Ferns of Southern Africa, A comprehensive guide. Struik Nature.
Jacobsen, W.B.G. (1983) The Ferns and Fern Allies of Southern Africa. Butterworths, Durban and Pretoria.
Roux, J.P. (2001) Conspectus of Southern African Pteridophyta. Southern African Botanical Diversity Network Report, 13: 1-222.
Schelpe, E.A.C.L.E. (1970) Pteridophyta. Flora Zambesiaca, 0: 1-254.